Facebook Engagement Report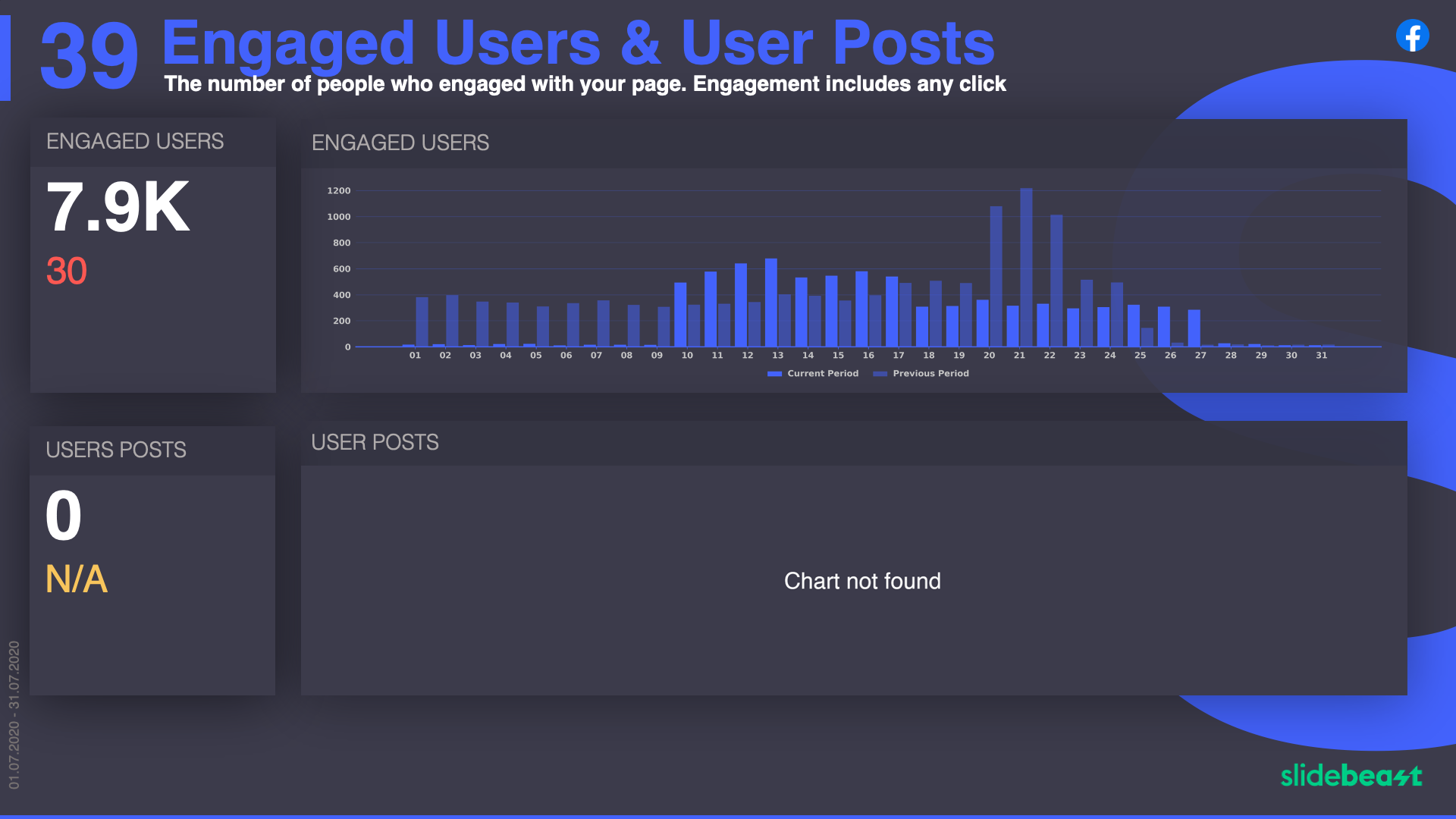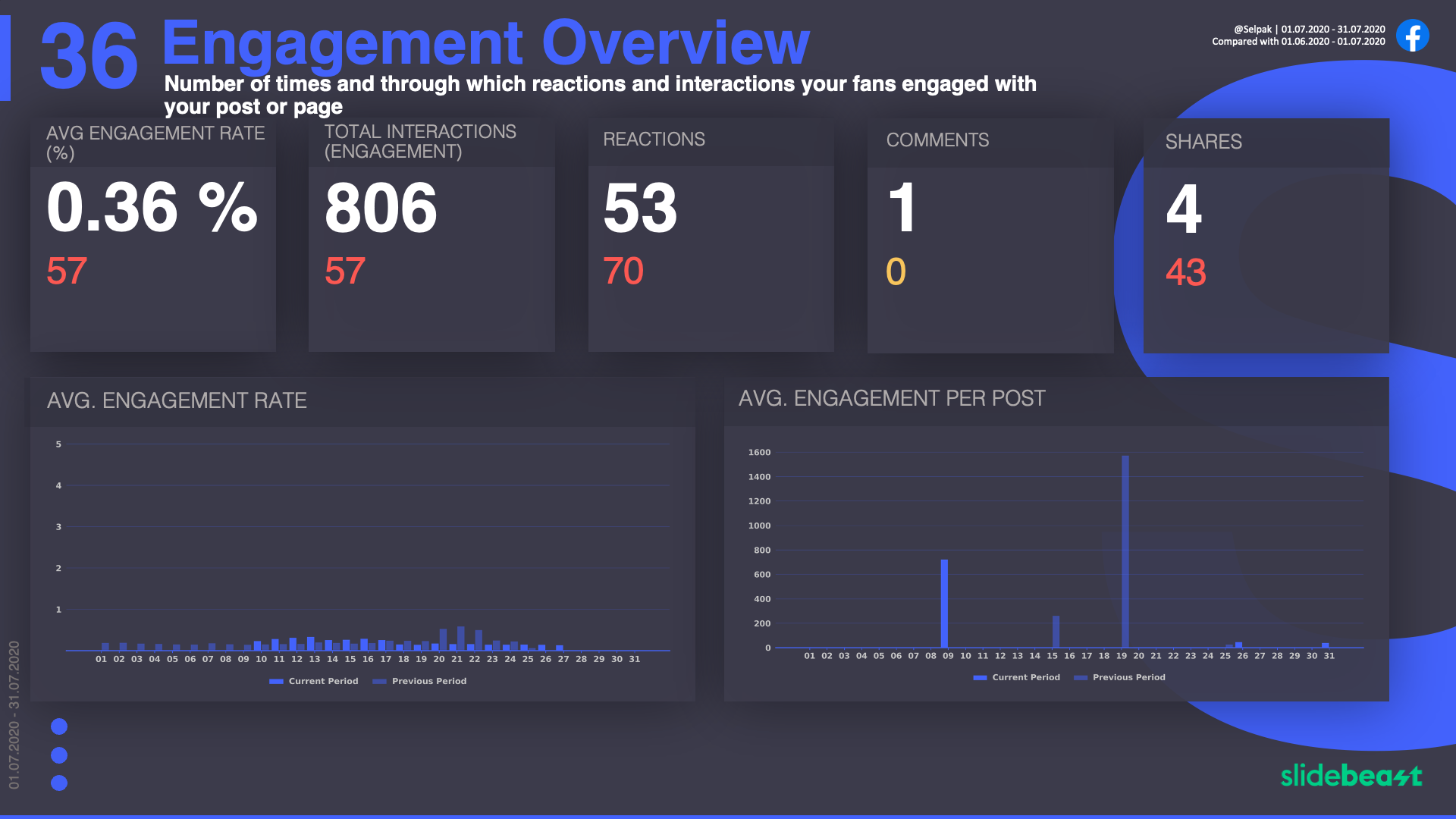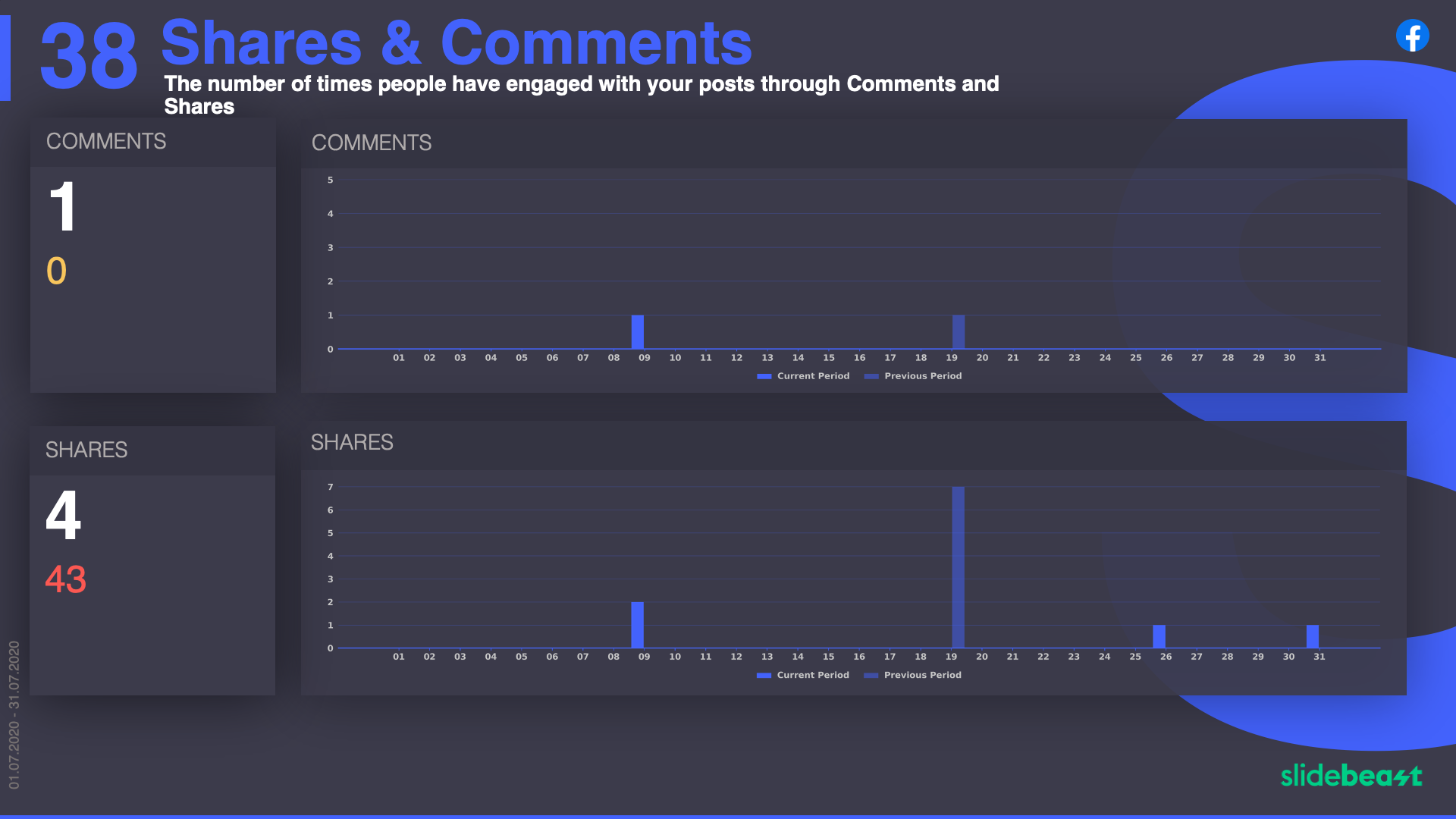 About this Report
Slidebeast's Facebook Engagement Report Template delves into the intricate world of engagement metrics, providing a detailed analysis of your Facebook content's impact on your audience. This template is crafted to offer a clear and visually appealing depiction of your engagement data.
Featured Metrics
Engagement Overview

Shares & Comments

Engaged Users & User Posts

Top Engagers

Competitive Outlook
Connected Sources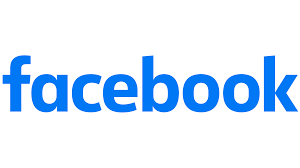 Report Sections
Intro
Overview
Competition
Overview
Glossary
Who should use this template?
Designed for a diverse audience involved in content creation, marketing, and audience engagement, this template caters to specific roles seeking to enhance their Facebook engagement strategies.
Social Media Managers: Analyze and enhance overall engagement strategies for sustained audience interaction.
Content Creators: Understand which types of content resonate best with your audience for future creation.
Marketing Teams: Evaluate the effectiveness of engagement in meeting marketing objectives and shaping future campaigns.
Brand Managers: Monitor the impact of engagement on overall brand perception and visibility.
Digital Marketing Specialists: Utilize detailed engagement metrics for data-driven decision-making in Facebook marketing efforts.
Agency Professionals: Provide clients with transparent and insightful reports on Facebook engagement.
When should you use this template?
This template becomes indispensable in various scenarios, guiding users to unlock the full potential of their Facebook engagement data.
Post-Campaign Assessments: Evaluate the success of individual posts within broader marketing campaigns.
Regular Performance Reviews: Conduct ongoing assessments to track the effectiveness of posts over time.
Content Strategy Planning: Inform future content creation by analyzing the performance of past posts.
After Major Product Launches: Assess the impact of posts related to new product or service launches.
Monthly Social Media Audits: Include post performance analysis in regular social media audits for strategic insights.
Post-Trend Participation: Analyze the impact of posts related to trending topics on Facebook.
During Influencer Collaborations: Track and assess the success of individual posts during influencer collaborations.
After Algorithm Changes: Assess the impact of Facebook algorithm changes on performance, adapting strategies accordingly.
After Running Contests or Giveaways: Evaluate the engagement generated by posts related to contests or giveaways.